ECOGEARAQUA MINI BOTTLE

PRODUCT CHARACTERISTICS
A specialized container to store ECOGEARAQUA STRAW TAIL GRUB.
Compact, vertical bottle designed for ease of carrying to fishing area.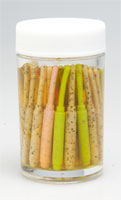 ---
CAUTION
To prevent leaks do not store on its side or upside down, and make sure the lid is firmly closed.
All caution has been taken, however pleas take care as the case may leak.
 Discontinue use if the case becomes cracked or broken.
Do not place near sources of heat.
---