EGILEE DARTMAX OMORIG SP

Tuned EGI specifically used for squid fishing (Yari Ika, Kensaki Ika) with OMORIG.
By placing the line eye on top, a unique dart action can be made when using OMORIG with a slight jerk
Has an optimal lightweight sinker when using OMORIG so it falls in an ideal position.
Has a hook developed specifically for squid (Yari Ika, Kensaki Ika).
Can also be used as a dropper in OBAMARIG.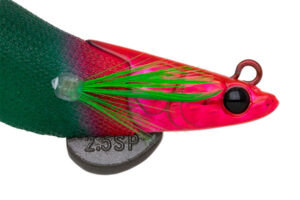 Light weight Sinker
While normal DARTMAX2.5 is 11g, OMORIG SP is 10.3g. Its weight and shape allows it to fall slowly and keep its position when not moving.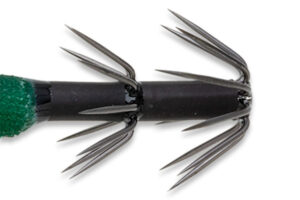 SPECIFICALLY HOOK
Uses a hook with 10 wires at the front and 10 at the back which are thin and stepped. The hook is specifically designed with catching squid (Yari Ika and Kensaki Ika) in mind. Can get bites in various situations and can deeply pierce the small, weak arms of the squid.
GLOW COLOR
Uses the first Glow Color in the DARTMAX series. Glow provides color when there is a low light. Also increases its visibility in muddy currents when it difficult for an EGI to stand out.
---
Weight
Body size
EGILEE DARTMAX OMORIG SPECIAL
10.3g
#2.5 Class
(80mm)


OR01


OR02


OR03


OR04



OR05



OR06



OR09



OR10

---