IWASHI HEAD

PRODUCT CHARACTERISTICS
Fish head type JIGHEAD designed especially for salt water game.

 

With a low center of gravity, it is perfect for anything from mid-water to bottom bump fishing.
A thick, flat shank, with a sharp twisted point, make the hook hard for the fish to notice.
The hook is nickel-plated to make it strong and rust-proof.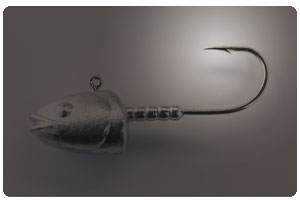 ---
| Size | Pcs. |
| --- | --- |
| #1、#1/0 | 3pcs. |
| #2 | 4pcs . |
| Weight(oz. / g) / Hook Size | #2 | #1 | 1/0 |
| --- | --- | --- | --- |
| 1/8oz.(3.5g) | | | |
| 3/16oz.(5.3g) | | | |
| 1/4oz.(7g) | | | |
| 3/8oz.(11g) | – | | |
| 1/2oz.(14g) | – | – | |
---